La Méthode Scientifique sur France Culture
http://www.franceculture.fr/emissions/la-methode-scientifique
En partenariat avec Le CNRS et Science & Vie
2016-12-15  La science : un art de la guerre ?
2016-10-13: Fête de la science : Comment rapprocher la science et les citoyens ?
https://twitter.com/infobookcom/status/786585784757256192
En absence de la science a la télé, les deux chevaliers de la science de @radiofrance & @BrunoMaquart qui donne d'accès aux YouTubeurs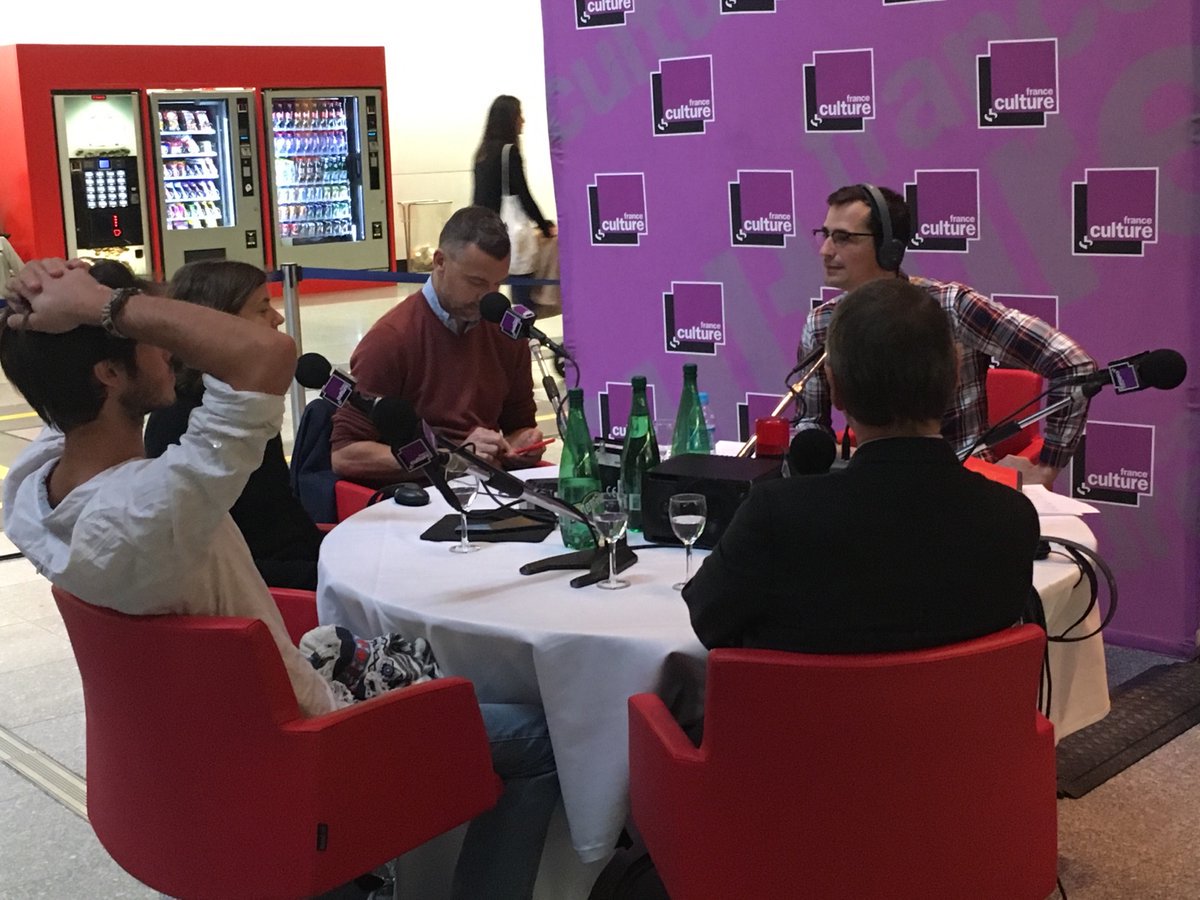 2016-09-29: Le grand récit de l'univers de Michel Serres
https://twitter.com/infobookcom/status/784027703192281090
2016-09-23: Extraterrestres : premier contact
https://twitter.com/infobookcom/status/780391415373332480
Juste avant le début de l'émission Monsieur Martin retweete un signal tweeté par Madame @ Piotela (twitter) en provenance de Berkeley SETI Research Center (Search for Extra-Terrestrial Intelligence). (Mme Piatola a été interviewé par l'émission). Voici le signal https://pbs.twimg.com/media/CtA6D7NWEAAyU_E.jpg. C'était un peu comme l'envoi du signal de LIGO il y a un an exactement avant ! Peut-on espérer à une séance radiophonique de traitement de ce signal ? :) Avec CNRS comme partenaire on pourrait imaginer plusieurs initiatives comme des séances ludiques des livetweets où les internautes répondent aux questions de chercheurs. Puis-je demander si l'émission a des plans pour la Nuit Européenne des chercheurs ce vendredi ? Peut-être en collaboration avec Nuit Européenne des Chercheurs sur Paris et cet événement https://www.facebook.com/events/1621597158131544/? Merci. Référence: http://zazaa.blogspot.fr/2016/09/la-methode-scientifique.html?view=magazine
https://twitter.com/piotelat/status/780403626783150080
2016-09-22: Yvonne Choquet-Bruhat : mémoires d'une femme de science
https://twitter.com/infobookcom/status/779288409219227648
Commentaires information-book.com:  J'ai été ravie de connaitre Mme Yvonne Choquet-Bruhat. Elle a mentionné que quand ils lui ont demandé ce qu'elle voulait faire et qu'elle a répondu qu'elle voudrait étudier la physique théorique ils lui ont dit : « Allez à Mme Joliot-Curie ». Elle a fait une thèse qui consistait à démontrer mathématiquement la théorie de relativité générale. Elle est allée à Princeton University avec son mari pour deux ans (1950-52) et Albert Einstein l'a accueilli a son bureau pour qu'elle lui parle de sa thèse. Il voudrait avoir un débriefing sur des aspects mathématiques de sa théorie (il n'était pas mathématicien de formation et avoir un débriefing mathématique serait quelque chose tout à fait normal, courant). Yvonne a présenté en français et Einstein lui a répondu en anglais. Il lui a demandé de venir le voir à son bureau quand elle voulait. A une occasion il lui a demandé son opinion de mathématicienne pour savoir s'il avait une solution périodique à sa théorie ou quel était le comportement de la théorie à longue durée. Yvonne avait déjà lu un article qui traitait cette même question et lui a donné la réponse ! A la question, "qu'est-ce qui vous a impressionné d'Einstein », elle a dit qu'une fois quand il lui avait parlé de sa théorie en se quittant il a dit « mais peut-être c'est la mauvaise direction ». Elle a admire ce courage d'esprit qui fait qu'un scientifique est prêt à réévaluer tout ce qu'il a construit.
2016-09-08: CERN : Y-a-t-il une vie après le Boson ?
Profiter de la sagesse du directeur des accélérateurs de CERN, Frédérick Bordry qui décrit l'"aventure humaine" à CERN.
2016-08-30: Quels sont les nouveaux horizons de l'univers ?
Enseignant-chercheur, Professeur à l'Université Grenoble Alpes
Laboratoire de Physique Subatomique et de Cosmologie (CNRS-IN2P3)
Docteur de Philosophie
COSMOGONIES, le blog d'Aurélien BARRAU, astrophysicien
Tweeter @AurelienBarrau
Aurélien Barrau et Lucile Bienvenu : un texte d'André Gide. https://www.youtube.com/watch?v=-SjGAqdRBnc …
Nouvelle édition de mon livre de Relativité Générale écrit avec Julien Grain.
Notes by information-book.com
I was wondering why Harvard chose the motto "Veritas". I came across an essay on "Truth" by an astrophysicist, professor and philosopher, A. Barrau (who was invited on FR national radio to talk on dark matter results on a scientific show that has the FR National Science foundation as co-partner). In an article (FR) http://www.ledevoir.com/.../la-science-dit-elle-la-verite he says that Thomas of Aquino was defining truth as the adequacy of thought and things. If we look up "adequacy" in a dictionary e.g. http://www.dictionary.com/browse/adequacy we find the definition "sufficiency for a particular purpose" and the example "he felt the adequacy of this life as a determiner of the eternal destiny of all men." (quote from "India, Its Life and Thought" by John P. Jones. Here is a noble goal, find out what makes you "full", fulfilled, and let the others know.
Now, on the nature of "truth": What is true? What exists, what is real, or at least what you think is indeed real. If you believe you have given adequate thought to something, you have gone as far as possible, that would suffice for saying it is true. So how do you do that? What is your method? Scientists have devised a method termed the "scientific method" that is taught to all newbie scientists at their first university year: observation of phenomenon, hypothesis, prediction, experimentation
http://teacher.nsrl.rochester.edu/.../appe.../appendixe.html.
Great! Can you apply it to everything? Barrau says "how can you apply it to Beethoven symphony of a Gaston Miron poem?".
He also says that the physico-mathematical prism is one of the possibilities and that science allows us to apprehend effective the "scientific real"; however this does not embrace all modes of being. Also appealing to the « scientific argument » is sometimes of incantatory virtue. Referring to the "scientificity" of a process is almost cutting off the debate at the source. He pays tribute to philosopher Gaston Bachelard who refused to choose between science and literature to defend the necessity for a diversity of approaches of the real. I was wondering if everything is eventually accessible scientifically; maybe just not yet.
Veritas or Truth is according to Thomas of Aquino "adequacy". My opinion: Mental and Ethical Truth. Describe truthfully, live in an ethically truthful way. Provide a High-Fidelity (Hi-Fi), adequate description of the world. Live fully, adequately.
2016-07-09 Projet Sauron : la cyberguerre aura-t-elle lieu ?