Foreign Policy and Religion
A Foreign Policy inquiring Religion as designed by John Kerry
2016-04-26
A policy inquiring religion by @JohnKerry : how it impacts ForeignAff, understand & approach, establish ties, defend pic.twitter.com/1A0dHWed1R
John Kerry's Remarks at Rice University's Baker Institute for Public Policy Link
Excerpt:
"I asked Shaun to take on sort of three missions in this effort: to advise me on how religion impacts U.S. foreign policy priorities, to support the entire State Department in better understanding religion and engaging religious communities, and to establish wider and deeper ties with key stakeholders across the globe.
In fulfilling those mandates, Shaun has pulled together a team of experts who have met with thousands of religious officials from five continents. "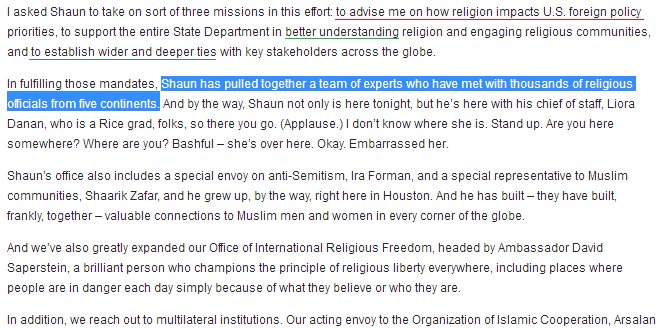 Foreign policy&religion by @JohnKerry | @madeleine :Had advisors on everything but religion go.usa.gov/cuZyC pic.twitter.com/hzqT7MJTmv

"I went to war & I learned the price that is paid when diplomacy fails" @JohnKerry cited at go.usa.gov/cuZyC pic.twitter.com/lCtR5gIir4
Facebook Q&A - Religion & Foreign Policy with @SpecialRepCasey 2016-04-28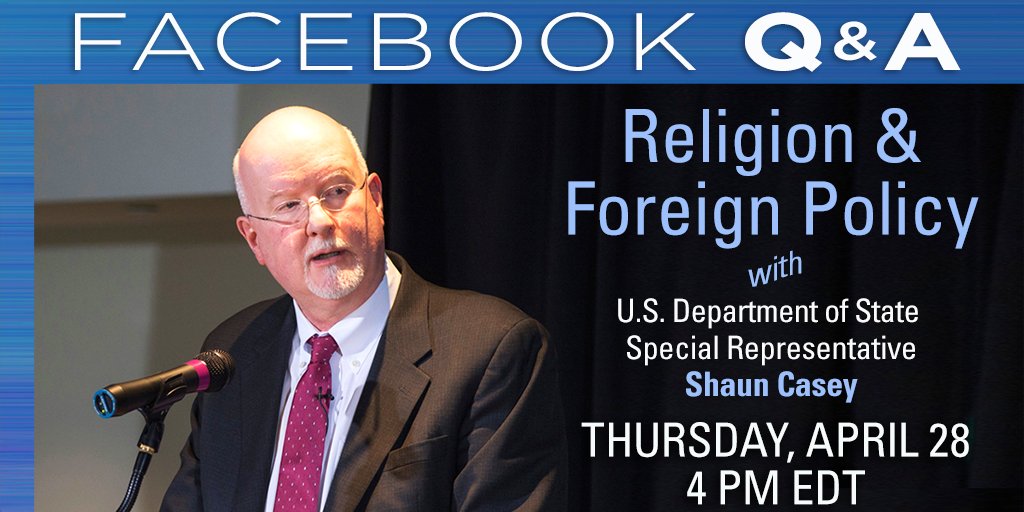 https://www.facebook.com/usdos/posts/10153532367791074
Q&A Religion&Foreign Policy @StateDept @SpecialRepCasey Q:I thought America's policy is separation of church & state pic.twitter.com/OAIy2QRssq

Office of International Religious Freedom @StateDept headed by @AmbSaperstein pic.twitter.com/yzb7Tw3lqA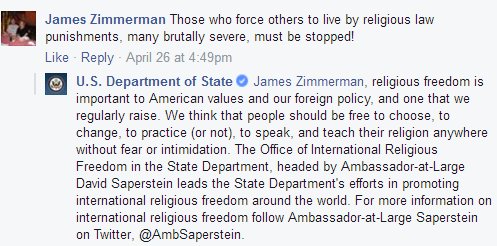 Q&A Religion&ForeignPolicy @StateDept Q:How is it we have people called Palestinians but no country called Palestine pic.twitter.com/dwy7Qyr2rf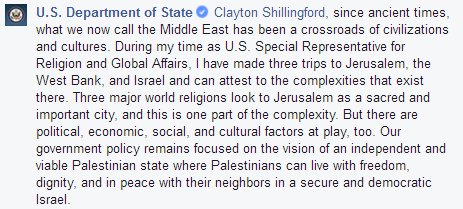 On the pedagogical role of Muslim leaders
What is the equivalent of the Vatican for the Muslim world
Muslim religious authorities, advocacy groups, and Imams
Information from this link
Walid Phares (Fox News Collaborator): "The first institution should be Al-Azhar University, the equivalent of the Vatican in Egypt."
http://www.azhar.edu.eg/En/u.htm
According to britannica : chief centre of Islamic and Arabic learning in the world
"And second, the Organization of the Islamic Cooperation, it represents 57 Muslim governments."
http://www.oic-oci.org/ Site in English, French and Arabic