Organizations against Mind Control
EU CACH - The European Coalition against Covert Harassment
EU CACH on facebook https://www.facebook.com/eucach/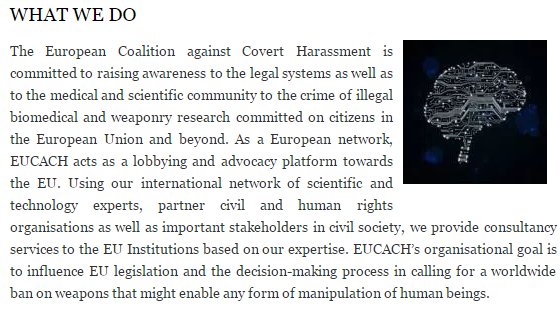 https://twitter.com/infobookcom/status/752613853108793344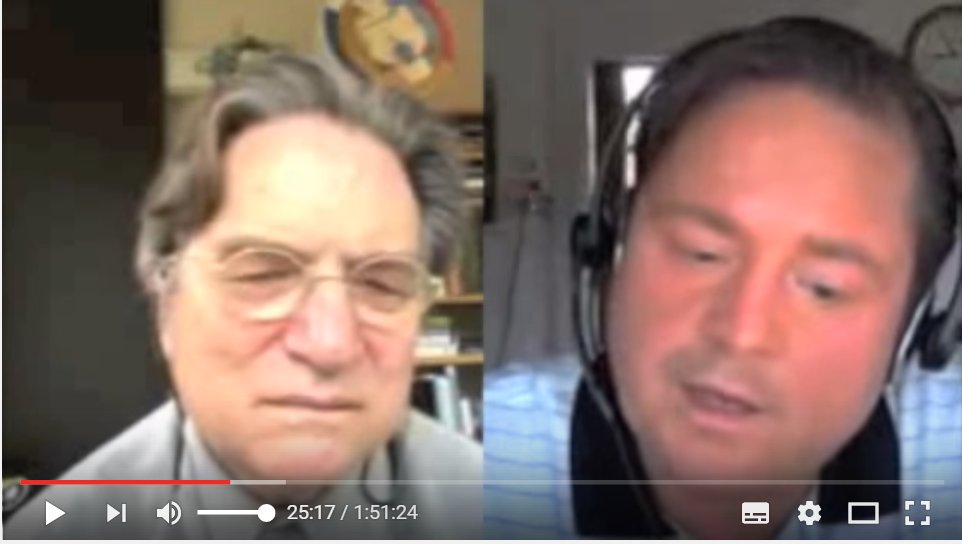 Information from interview (4:55 to 27:30 approx):
Estimate of 6 million victims in Europe (some subliminally)
Brain function piping to smart computer systems, quantum clouds, all adaptable to HAARP. RF modulation through power grids
Stimulation of different organs and body functions
Brain mapping in progress
Mental representation formation (memories, dreams) manipulation similar to digital processing or broadcasting
Melinda machine for voice generation in head
Breathable implants that cross blood-brain barrier and reach brain
WORLD CACH - The World Coalition against Covert Harassment
https://www.facebook.com/World-CACH-872192876221624/
US CACH
(US CACH seems to share above facebook page)
ICATOR - International Coalition against Electronic Torture and Robotization of Living Beings
Facebook https://www.facebook.com/melanie.vritschan.3
ICATOR Chairwoman: Melanie Vritschan  melanie.vritschan.icator@gmail.com
Melanie's profile at EUCACH: 
https://eucach.org/members/eucach-members-melanie-vritschan/
Excerpt: "She has worked as the Communications Manager of a European navigation satellite system developed by the European Space Agency (ESA)"
Melanie is a Brussels resident and has applied to register ICATOR as a not-for-profit/non-profit organization (NPO) at the commerce court of Brussels.
[FR : Mélanie, domiciliée à Bruxelles, a déposé un acte de création d' Association Sans But Lucratif (ASBL) pour ICATOR auprès du Greffe du Tribunal de Commerce de Bruxelles.]
An organization registered in Brussels is the ideal interlocutor with the EU Parliament which is located in Brussels.
ICATOR Vice-Chair: Luc Vervliet luc.vervliet.icator@gmail.com
Presentation of Melanie:
Crowdfunding link (& additional information): https://www.gofundme.com/24efjn8
International Center against Abuse of Covert Technologies
"ICAACT was created to bring awareness to the general public and the legal systems around the world about serious human rights abuses utilizing remote influencing technologies. Our aim is to obtain evidence."
Targeted Individuals United Association
http://targetedindividualsua.weebly.com
STOPEG Foundation - STOP Electronic weapons and Gang stalking
www.stopeg.com
IGEF - Initiative Gegen Elektromagnetische Folter (German Group)
www.e-waffen.de
STOPZET (Polish Group)
https://stopzet.wordpress.com/
(A Meeting Between STOPZET AND WORLD CACH representatives took place in Warsaw on 23 April 2016)
ADVHER
ASSOCIATION DE DEFENSE DES VICTIMES DE HARCELEMENT ELECTROMAGNETIQUE ET EN RESEAU
COVHER - COVHERFRANCE