Creating a Neuroscience Encyclopedia 
Neuroscience, Literature and Television
http://durrutyguedjphoto.free.fr/rpchimieemotions.htm
What could we do with a classic Neuroscience textbook as this?
http://www.principlesofneuralscience.com/overview.html
The Brain Series of the Charlie Rose Show with Eric Kandel, Nobel prize neuroscientist
We could invite the Nobel prize author, Eric Kandel, and prominent neuroscientists to talk on related subjects, as the Charlie Rose Show (one the most popular TV shows in US) did.
The Brain Series: Sports-Induced Brain Trauma
http://www.charlierose.com/watch/60655099
Eric Kandel, Walter Koroshetz, Susan Margulies, Thomas McCallister, Dawn Comstock and Tori Belluci, former All-Met soccer player at Huntingtown High School in Maryland.
Best of Brain Series, Season 3
http://www.charlierose.com/watch/60623562
A look back at highlights of the third season of the Charlie Rose Brain Series. Excerpts from The Brain and Gender Identity, The Brain and the Biology of Parenting, and Aggression and the Brain.
All episodes with Eric Kandel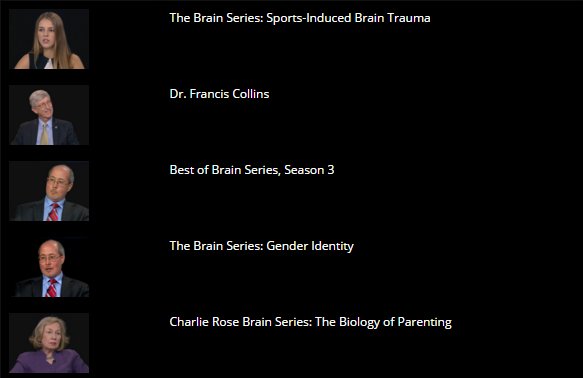 (result of search for "brain" on the site)
The Chemisty of Emotions
La Chimie des Emotions 
A book similar to a work of art with the text (in French) of Sebastien Bowler and the photos of Veronique Durruty. Published by Aubanel in 2007.
Un livre qui ressemble à une œuvre d'art avec le texte de Sebastien Bowler (journaliste scientifique de Cerveau et Psycho) et les photos de Véronique Durruty. Editions Aubanel 2007.
Index / Sommaire